Use interlock stone across your entire property
Homeowners and landscapers who are looking for unique, elevated outdoor living spaces should consider interlock stone. This versatile material allows you to introduce new textures to your landscaping, from the roughest natural limestone to smooth, polished Beacon Hill stone.
Interlock stone is also available in a wide range of colors, including natural neutrals in white, grey, and black and bolder mixes of brown, yellow, and beige.
You can use any kind of interlock stone to give your house instant curb appeal from the front as well as elegant charm at the side and in the backyard with a sleek, unified look. Consider interlock stone for your:
Driveways: Driveways made with interlock stone will retain their stylish appearance for years to come. Stone paving slabs are versatile, so you can create a classic driveway or a truly unique look.
Walkways: Beautiful design, non-slip surface and a wide range of color choices make your stone walkway a treasure. Integrate stone into your garden with stone edging next to your path.
Patios: What is more durable and stylish than a wood patio? A stone patio. When you choose stone interlock, you will spend less time treating and staining your patio and more time enjoying it.
Pool Decks: Keep your pool deck safe with interlocking paving stone. Not only is this a stylish material, it's slip-proof to prevent falls. Plus, match your pool deck to your safety wall around your pool—which can also be in stone—and use our stone caps and coping.
View our entire gallery of interlock stone products
Built by the Best
Lane's Landscaping only carries the highest-quality interlock stones. We've partnered with some of the best manufacturers in the landscape supply industry to offer you a wide selection of stone that is durable and stylish.
Some of our trusted partners include:
Durable
Interlock stones are made to withstand all sorts of weather conditions, such as:
Extreme summer heat or winter cold
Torrential downpours
Heavy snowstorms
Freeze-thaw cycles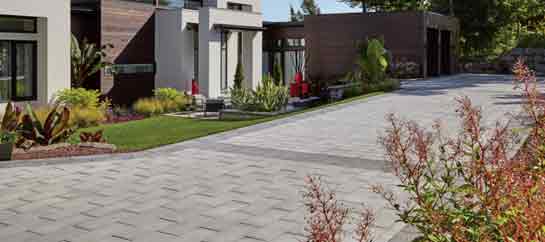 And they're made to handle daily wear-and-tear and other hazards, like:
Spills (from oil, gas, chlorine or other fluids)
Items being dropped on them
Excessive dust, dirt and other debris
Heavy loads (from vehicles, outdoor furniture or appliances)
We'll deliver our interlock to you
Interlock products are available for delivery for a flat rate of $99 to the following areas:
Mississauga
Oakville
Brampton
Milton
Burlington
GTA
Aggregates are also available for delivery.